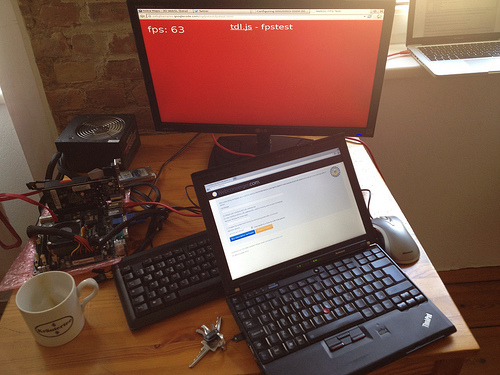 We have been hard at work this summer and 14.0 marks several major enhancements:
New: 686 kernel, which should show better performance on multi-core hardware
New: Mozilla Firefox 14.0.1, using the official distribution
New: noclean API option for deployments where the default clean slate is not desirable (e.g. Granny's bungalow)
New: swarp API for mouse positioning, many thanks to the suckless community
Update: Critical Flash update 11.2.202.238
Fixes: Better xrandr screen handling, for portrait orientation try xrandr-all=--rotate%20right
Fixes: Time synchronization doesn't alter the BIOS clock
Fixes: Logging tweaks to increase signal over noise
Fixes: Better lock down
For the full changelog: git log --oneline --decorate 13.0..14.0 on the git maintained rootfs and here are the package changes.
md5sum: e3abd1fbbcd43f3d8465e1c42f9bfebd  webc-14.0.iso
sha1sum: 3afbe5823c54c0e7e5855b0b180f3ae082e247ba  webc-14.0.iso

Please download from Webconverger.com who supply commercial services around this opensource project!
Many thanks to Matthijs Kooijman who has earnt his commit rights and helped with this release and the next to come!