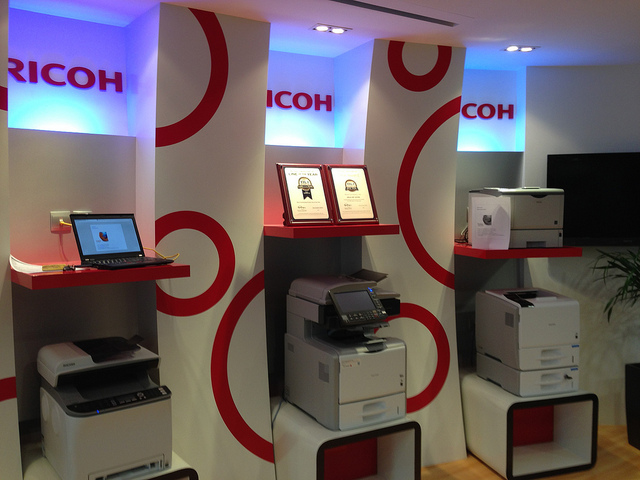 Webconverger 19 brings you in terms of effort put in:
Printing support completely overhauled with a new printer= API
Restored nvidia (ion) WebGL acceleration using driver version 313.30
New support API which allows customers to send us their complete (non-browsing) logs for study to http://support.webconverger.com/[MACHINE_IDENTITY]
Raft of package upgrades
New prefs= API, to override Firefox preferences, typically used for omitting print headers
Firefox 20 updates and Flash security updates
Tweaks to our Firefox kiosk extension (version 45)
Printing properly provisioned
Thanks to a government client, who needs to print off Ricoh printers, we have greatly improved our printing offering.
Ricoh Singapore kindly helped us improve support by giving us access to their smart "Printer Innovation Center", where we tested several of their printers with Webconverger successfully.
I would like to thank Wiemin Zhang and Sam Hon for hosting me there. I look forward to working together to improve printing support for enterprise deployments of Webconverger.
Printing to a PDF file server possible
If you need to archive Webpages to PDF (for evidence for example), our printing page has a tutorial describing how to setup a "cups-pdf" service on a separate (non-Webconverger) Linux machine.
This mechanism can be used to preview a PDF before printing it. So a Internet cafe user could print to PDF to an administrator's machine and then proceed to pay the administrator before printing it out.
Here is a sample PDF, printed using Firefox 20 and a CUPS-PDF version 2.6.1 service.
For all the details git log --oneline --decorate 18.0..19.1 on our unique upgrading git maintained chroot.
md5sum: 4b0072e39bae8f9b1fe213509ac04367  webc-19.1.iso
sha1sum: d7973471923f691034b355e9be0af610fb9c3147  webc-19.1.iso

Download now from http://www.webconverger.com/ and enjoy the very best PC kiosk experience. We are proudly opensource and there is no vendor lockin like our competitors. Please consider purchasing a subscription to support us and enjoy our friendly service.